After being commissioned by NEDO (New Energy and Industrial Technology Development Organization), Yamato Sanko worked together with Tohoku University from 2013 to 2014 to perform "Research and Development of Bioenergy Technology/Strategic Development of Next-generation Bioenergy Utilization Technology (Next-generation Technology Development)/Research and Development of Novel Process to Directly Produce High-purity Hydrogen from Sewage Sludge".
Prior to this research, a batch process had been developed where high-purity hydrogen gas was produced directly by mixing calcium hydroxide and nickel hydroxide into the sewage sludge and heating the resulting mixture at low temperature.
In this research and development, we designed and produced a continuous process for the production of high-purity hydrogen directly from the sewage sludge. We clarified the effects of the mixture quantity and operational factors on hydrogen production, and designed a plant for practical application.
The research and development items included acquiring basic data for rotation type experiments, understanding the reaction mechanism, and designing and producing a continuous process.
Tohoku University conducted research and development about the "optimization of the mixture amount of the gasifying agent and reduction of the catalyst amount", "analysis of products such as generated gas and solid residue", and "analysis of reaction mechanism of hydrogen generation".
Yamato Sanko performed research and development about the "design and establishment of continuous hydrogen production processes", "clarification of the effects of operational conditions on hydrogen production" and "design of practical application plant and evaluation of effectiveness".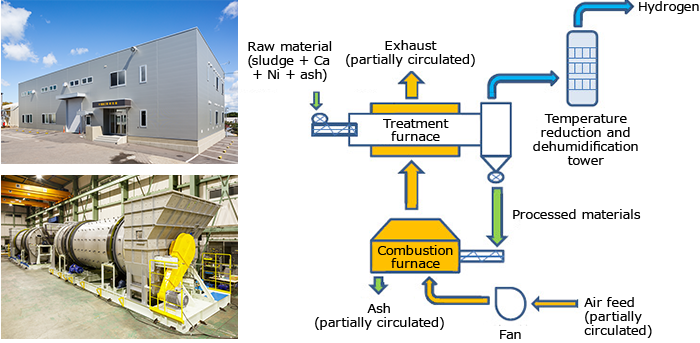 To increase environmental protection, the raw material needs to be changed from fossil fuels to renewable energy.
Renewable energy includes solar, wind, hydropower, geothermal and biomass. The start of fixed-price purchase guarantee systems has encouraged a rapid transition to electric energy. There are also high expectations regarding the use of materials such as biomass and plastic waste as a raw material for generating hydrogen.
Biomass includes resources from livestock, forestry, food and sewage sludge. Forestry resources are also used as a raw material for biomass power generation, but there are issues in terms of obtaining and collecting the biomass, as well as high costs.
Generally, biomass such as livestock, forestry and food resources are dispersed widely and thinly, and the energy used for collecting these resources will exceed the energy in the biomass.
However, the infrastructure is already in place for sewage sludge and it can be collected naturally at specific locations. Sewage sludge consists of about 90% organic and 10% inorganic components. These components do not vary greatly over the year, and the quality and quantity are also stable.
About 70% of the inorganic components are reused for materials such as construction or roadbed materials.
The organic components are used as digestion gas at about 300 purification centers, and also for applications such as agricultural land and carbonization. However, about 76% of organic components remain unused.
Sewage sludge is one type of carbon neutral biomass. Therefore, if hydrogen can be produced from sewage sludge, it will contribute to both restricting global warming and creating a hydrogen society.
Proposals for producing hydrogen from sewage sludge include a method that uses supercritical water, and a method where digestion gas is generated from anaerobic fermentation, which causes a water steam reforming/water gas shift reaction.
We devised a method where hydrogen is produced from sewage sludge at a relatively low temperature and at atmospheric pressure, and which does not use digestion gas. Calcium hydroxide is mixed in the sewage sludge as a gasifying agent and nickel hydroxide is mixed in as a catalyst. The mixture is then heated at a relatively low temperature of 600℃ to directly produce hydrogen.
This method has been verified in batch tests at the laboratory level using several grams of sewage sludge. For practical application, a continuous type of plant must be designed.
This research and development addressed the following issues to progress toward practical application.
1) Design and produce a continuous type test machine
2) Clarify the effects of the operational conditions of the continuous type test machine on hydrogen generation
3) Optimize the mixed quantity of gasifying agent and catalyst
4) Analyze the product
5) Estimate the reaction mechanism
6) Design an outline of a plant for practical application and evaluate the effectiveness of deployment
To prepare for the future, Yamato Sanko will continue to contribute to the strategic development of next-generation bioenergy.